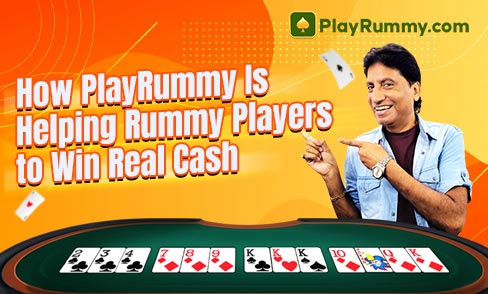 There are many rummy card games where a lot of rummy players daily win a lot of real cash. One among these rummy apps is called Octro PlayRummy, which we believe is the best when it comes to helping people daily win big cash rewards. We aren't boasting about this for the sake of it. In some of the points that we will highlight in this blog we will prove what we are saying is true so that you agree with what we claim.
Design: For rummy players to win consistently the first thing that they need to do is play rummy on a good app. By 'good app' we are talking about the app design, where players find it easy to navigate to various features. This rummy app has all the necessary features to make a user's journey an enjoyable one. Here players can easily navigate between a variety of options. Since, the design is good players spend a lot time playing rummy on it and this improves their game leading them to winning consistently. The team at PlayRummy has taken every measure to assure that the friendly user interface and spectacular graphics will give players a fascinating experience.
Knowledge: Time and again it's been noticed that incomplete knowledge is dangerous and the team who have developed this rummy card game believes in it completely. Without knowledge no product lasts long enough hence in order to promote a healthy rummy culture, this rummy platform where real money rewards are a huge attraction for rummy players provides easy, detailed yet self-explanatory tutorials even for the beginners. For you to believe it, you can download the rummy app and check for yourself. That's not all, even after doing this if players face any issues in understanding the game there is a full-fledged support team that addresses your concerns over email or a phone call so that players have the best gaming experience and make a lot of money. The app is designed in such a manner that it will continue to ask the user if they have understood the rules completely. If not, they can go through it as many times as they want before they are confident of playing the game.
Contests & Tourneys: For rummy players to consistently win big rewards, there have to be enough games that they can play on the app. On this rummy app there is no dearth of contests and tournaments. Everyday players can choose from a variety of options, register themselves for various tourneys and show their skills to win big money on the table. That's not all there are various game modes as well which you can choose and play the game anytime, anywhere.
Offers: Money saved is money earned. The rewards on this rummy platform aren't the only thing which can make sure players earn big money, there are in fact a lot of good offers as well where rummy players can save a lot of money. For starters this rummy app gives players free cash when they register on the platform. This is followed by various deposit offers and other daily offers which players can avail on a regular basis and earn money.
Fair Play: After a player understands that the rewards with regards to the money are good in this rummy card game, there can be some who want to get these using unfair means. At PlayRummy however, there is a zero tolerance policy towards unfair gameplay. If the team notices any fraudulent activity or are informed about one from a player they look into it promptly and conduct a fair investigation. Once the investigation is complete and it's found that there was unfair gameplay committed by a player or players, strict action is taken against those found guilty. Not only this, it's also ensured that the person who was at the receiving end of a fraud gets in terms of compensating the losses he or she suffered. In order to ensure that these unfortunate instances are far and few in between, the seating to play rummy on this app is random, ensuring that the game table is not controlled by any one player. The shuffling of cards is automated as well. The app is also well-equipped with fair play plug-ins that monitor every player and ensure the game play is clean.
All the above steps ensure that a good rummy culture is maintained on this app and that rummy players enjoy having a great experience playing their favourite card game.