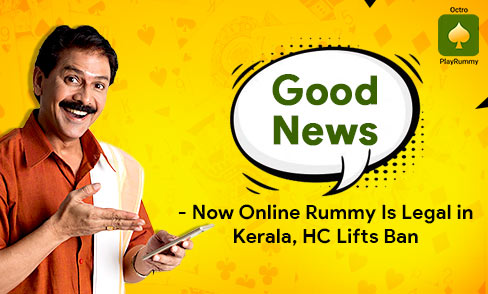 Yeah! We know after reading the headline of this blog you are wondering why are we writing an old rummy news and telling you that now those who are based in Kerala can play real cash games like Indian rummy there. While this happened over a month ago when the Kerala High Court quashed a notification issued by the Kerala government banning online rummy, we wanted to remind rummy card game players all around the country that a court of another state now considers online rummy as a game of skill. This blog is being written with the intention to inform the readers about how the court arrived at the decision and what all was discussed during the proceedings.
The state government had issued a notification on February 23, 2021, clarifying that online rummy when played for stakes does not enjoy exemption from the general prohibition of gaming and gambling granted under Section 14 A of the Kerala Gaming Act, 1960, and the notification issued thereunder in 1976.
Observing that the online rummy card game is a 'game of skill' the Kerala High Court on September 27, 2021 removed the ban which was imposed by the state government.
A bench which consisted of Justice TR Ravi called out the government order describing it as unconstitutional and in violation of the fundamental rights to trade and commerce under Article 19(1)(g) and the right to equality under Article 14 of the Constitution of India.
What's there in the order?
In his order Justice Ravi stated "The Counsel has placed all their cards on the table. My effort is to arrange them in sets and to declare. If I arrange the cards skillfully and declare, then "rummy is a game of mere skill". If I arrange the cards without any skill and still manage to declare, then "rummy is a game of chance"."
The decision came after companies that were all engaged in the business of developing and offering online games of skill in India filed multiple petitions before the Kerala High Court. The petitioners had argued that the notification issued by the state government was arbitrary in nature, with no legal backing.
Appearing for one of the petitioner online gaming companies, senior Advocate Mukul Rohatgi argued that the notion that an online rummy game is addictive does not by itself make it a game of chance. He stated that by that logic, lotteries too could be addictive, but were promoted by the state itself.
The state however maintained that online rummy is not a game of skill and that there is an element of cheating involved and also manipulation of the cards being dealt.
Based on precedents, the court stated that "playing for stakes or not playing for stakes can never be the criterion to find out whether the game is a game of skill and not of chance".
Therefore, for the same reasons that rummy was held to be a game of skill, online rummy was also a game of skill, the high court finally concluded.
Opinion Divided
Even after the court's decision of quashing the ban the opinion about online rummy being a game of skill or chance is still divided. Those who aren't in favour of it feel that card distribution even though done randomly in online rummy has an element of luck. However, people who consider it as a game of skill say that not only does the person with the most skills win these games, the industry has also generated a lot of employment for millions of people, especially youngsters, who engage in online gaming to earn their livelihood.
Reason Behind Online Rummy's Popularity
A few days ago, there was a report by NDTV, where they claimed that the country right now has over 400 startups and, as of 2020, housed more than 360 million gamers. The industry value is expected to reach $2 billion by 2023, and the count for gamers will reach 510 million by 2022.
Conclusion
Now that you have read this blog and are updated on all the recent development pertaining to online rummy real cash games, it is time for you to download the best rummy app and judge it for yourself if rummy is a game of skill or chance.