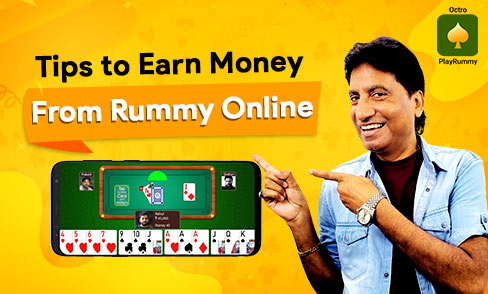 Real money games like playing online rummy is a great way to earn money. Lots of players regularly win huge cash rewards playing real cash rummy on various rummy platforms. The Indian rummy game has become a popular source to earn great cash rewards by applying your skills. Real money gaming is expected to grow by leaps and bounds in the days to come. A report from PGA Labs has suggested that the Real Money Gaming (RMG) sector, which is 68% of the online gaming industry today, is expected to see a CAGR of 38% and by 2022 become a $1.6 billion market. This means that there will be even more opportunities to earn cash playing these online games.
What however must be considered is that not everyone who plays a real money game wins every time. Those who win are good at certain skills that these games require them to showcase. Every player though can earn money by playing online rummy games by following the rummy tips shared below.
Improve Your Skills: Earning real cash playing online money is directly proportional to your gaming skills. Make sure you are up to date with the do's and don'ts of the game and the platform you are playing it. Ensure you are game ready by practicing before playing the high stakes cash tournaments and competing against the best players. Work on different strategies needed to do well in online rummy. Most rummy games offer low stakes and even free tournaments for novices and anyone who wants to learn the game better before they are confident of competing against the best with big cash involved must play these games and hone their skills.
Be Rational: While playing real money games like real cash rummy it is advised to keep your emotions at bay and think rationally in every situation. These games are such that there will be moments when a player will feel frustrated. During such situations, it is imperative to be rational rather than being reactive. If you want to win good amounts of cash on a consistent basis you should pay attention while playing the game and even while not playing it by reading about it and watching others play it. Doing this will help you to develop critical and rational thinking. Keeping emotions at bay while playing is the best way to remain unaffected by anything that could lead you to make an irrational move.
Weigh Your Choices: Before you begin playing real cash rummy on any online rummy app you will find numerous tournaments, which would attract you with their amazing cash rewards. While these would be tempting opportunities at the same time, it may feel quite overwhelming to find yourself with so many tournaments to choose from. It is therefore advised that you try playing games on tables you feel you would be comfortable to compete. By choosing the correct table to play at you will increase the probability of you doing well and this will increase your confidence to move ahead to bigger tables and compete.
Work on Strategies: In real cash rummy opponents don't give you an inch, good players create opportunities for themselves using their skills and strategies. It is absolutely vital for all rummy players to have good rummy strategies if they want to earn big cash. These strategies could be formed by working on your game. Apply these strategies in the games you play, the ones that work well for you keep executing them for consistent results in your favour.
Learn the Art to Quit: This is one of the most important rummy tips that anyone can give you. Yes, it's an art which not many rummy players know. Only the good rummy players understand when is the right time to quit the game. It usually comes with experience. It can save you from losing large amounts of cash while playing a tournament when things aren't going your way. To know when to quit you would have to play a lot of online rummy games and deal with various situations and scenarios where things aren't going your way. It is only after facing these scenarios a few times players learn when to drop out of the game. Good rummy players will tell you that it's always better to quit and save on the cash than losing money to the game.
Earn By Availing Offers: A lot of real cash games have various rummy offers for players at any given point of time. These offers come in the form of discounts, bonuses and promotions. Smart online rummy players know how to make the best use of these offers depending on the level at which they are in the game. There are welcome bonuses, regular bonuses along with registration cash offers which players can enjoy. Players can go for the offer that suits you the best because money saved is also money earned.