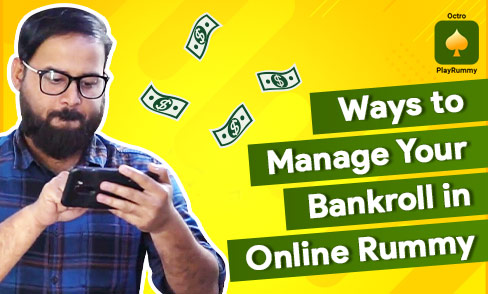 Playing rummy online is of interest to a lot of rummy players. The game's become even more popular because while having fun people can win lots of cash rewards. It's a game of skill which requires strategic play and regular planning. Players who want to play real cash games should be adept at a lot of aspects related to online rummy. One of the major ones being how to manage their bankroll to play. One should be mindful of the amount they spend in money games.
Being aware of your spending habits will help players save more money. This fund can be later used for playing rummy tournaments with bigger prize money. If you are losing track of your spending, here are some ways to manage your bankroll effectively.
Set A Budget: Setting a monthly budget is a great step to manage your bankroll and the best rummy app help you do that effectively. For instance, you can keep  ₹ 5,000 or  ₹ 10,000 depending on your spending power to play. In case you are performing well then, this budget can easily be reduced to lower your risk. It's an effective measure to save your bankroll from losses, making you come back stronger in the subsequent games. Every time you want to take part in a contest, always check if you can afford it. Also, never spend all the money at one go instead divide it in multiple tournaments.
Take A Break: If things aren't going your way and you are losing games the reason might be that you are tired physically or mentally. An effective way to break the losing streak is to take a break or reduce the number of games you are playing for a limited period of time. It can give you an energy boost that will help you feel fresh for bigger rummy tournaments. Always keep a tab on your game history. It will tell you your win and loss record. If you are losing more than what you are depositing, it's an indication to take a break.
Pick A Game Wisely: When it comes to playing online rummy for cash prizes, the game variant and the tables play a significant role in the outcome of the game. The number of players and the entry fee are important factors that decide the prize pool. So, if you are not skilled enough, it's better to avoid games with high entry fees as they usually involve skilled players.
If you have already entered a game or a tournament and you are not happy with the cards dealt to you, you can opt to drop the game, which will reduce your margin of defeat and help you save your money for better games in the future, instead of losing it all for nothing.
Segment Your Games: Planning the number of games you want to play in a day can help you avoid spending extra money. If you want to play game worth  ₹ 10,000 in a day, you can segment this budget by playing multiple games, instead of playing just one. You can start from the lowest game values until your daily budget for playing cash games is finished. This will also help you understand which tables you are performing better.
Learn From Mistakes: Most players lose their game because of silly mistakes. If you are one of these players it's time to reanalyze your game. Cash rewards are a tempting aspect which can coax you to play the next game right away. However, it is better to keep your goals and focus clear. If you are losing regularly, it's better to stop playing for a little while some time and figure out the step you slipped. Make better rummy strategy by learning through your loses.
Save First & Then Spend: Following this principle in rummy will help you manage your bankroll better. It's simple, after you have fixed your monthly budget for playing rummy, deposit that sum in your PlayRummy account. This deposit will be beneficial for you in case of a surprise promotion or tournament comes up and you are short on funds.
Re-Invest Your Winnings: There are certain rummy players who after every win withdraw their winnings. While it is good to enjoy the amount you have won on the rummy table, re-investing part of that money is another great way to manage your bankroll effectively. This will help the player play more rummy games even when the savings are low. This way, even if a rummy player's playing budget is tight for a particular month, they will still have sufficient funds to play on cash tables without compromising.
Playing online rummy on PlayRummy App is fun as long as the money keeps coming. The moment you incur more losses than gains, it is time to pull your socks up and manage your bankroll and all the above steps can help you do that in a much better way.
You May Also Like: Useful Tips To Achieve Winning Streak In Rummy