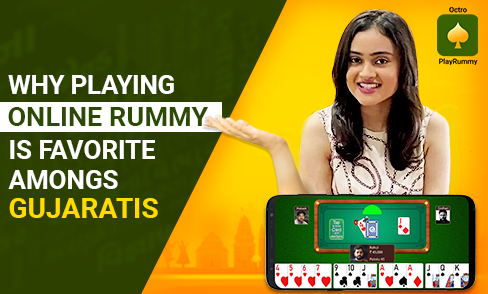 While rummy is a popular card game all over India, there is a state where people absolutely love the game probably slightly more than the other part of the country. Yes, you probably guessed it right it's Gujarat and the people of this state love to play real cash rummy.
Being one of the largest states in the country it is home to 6.48 crore people. While Gujarat is famous for its great snack and food and folk-dance called Garba it won't be wrong to add a game like rummy playing skills of the people of this state to this list. But why is playing online rummy Guajarati's favorite pastime? We feel below are some of the reasons for it:
Fun Loving People: Guajarati's love to have a good time and celebrate life with great enthusiasm and fervor. Hence after completing their routine jobs, they usually like to have fun every day. One way they do this is by playing their favorite card games like rummy, teen Patti, poker etc. The excitement and the adrenaline rush that these real cash card game gives to them is unmatched.
Good in Calculation: Usually it has been observed that the people of Gujarat are good at calculations and math. This is the reason why some of the most famous businessmen come from this state. It is believed about Guajarati's because they are good at calculation, they can calculate their winning probability in the skill game like rummy online.
Love For Details: Guajarati's as a community love details. That is why if you ever meet a Gujarati businessman, they wouldn't just know stuff about their work but even others who may be remotely related to the work they do. Rummy as a game needs that kind of love for details and keen observation. The people of this state surely know how to know all of those minute points.
Good at Strategizing: If you know how to play rummy or are learning how to play this game you will notice that it involves a lot of strategies and moves to be successful at it. Since Gujaratis have a temperament where they love making strategies and plans even in other aspects of their lives, making good strategies in online rummy comes easily to them. It is a fact that those who are good at strategizing are likely to love games like rummy.
Money Churners: Gujarat is one of the most well-off states in the country when it comes to the standard of living people have there. It is because most of the people who live there somehow know how to make money. Money making is a skill which everyone has. It isn't for nothing that some of the richest people in the country are Gujaratis. Money is also a key motivation for Gujaratis to play rummy online. The cash reward that people can win in this game is huge. If you have the skill and patience to keep improving at the game you are bound to win big in rummy and no one knows this aspect better than the people of Gujarat.
Risk Takers: There is no denying that any game where huge amounts of cash is involved does have an element of risk. It holds true for online rummy games as well. Those who are good at winning big in rummy do know how to take calculated risks. One community that comes to mind instantly that are good takers are the people of Gujarat. These people don't make rash decisions or chase losses but are good at taking measured risks if they feel that the returns can be great and hence rummy is the game which suits this temperament perfectly.
By these points we don't mean in any way that people from other states in the country don't know 13 card rummy rules well or aren't as good as Guajarati. These are certain aspects which are very visible when it comes to indicating as to why Indian rummy apps in Gujarat are so popular among the people and what rummy players in general can learn from the people of this state when it comes to playing this game.