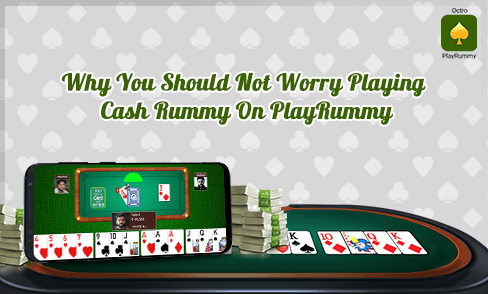 The reason behind online rummy becoming really popular for the past two decades is that players here stand to win huge amounts of cash. On an online platform like ours a person can play the game and win exciting cash rewards.
However, it sometimes comes to notice that people are sceptical about the safety of online rummy and other such cash games. Are you one of those people who like rummy but are concerned whether it's safe to play cash rummy games online? Then let's clear your doubt by confirming that it is absolutely safe to play cash rummy on a PlayRummy. Below are some of the reasons why we believe that you can safely play rummy on India's most trusted rummy app. Let's take a look at them:
Legal and Safe
Often people have inquiries concerning the lawfulness of online rummy. So, you can check for yourself that the Supreme Court of India has declared rummy a game of skill and hence it's absolutely legal to cash and non-cash rummy in India. A game is considered a game of skill when its outcome depends on the skill-set of the person or persons playing it and not just luck or chance. Skill is what decides a winner in rummy hence rummy which is skill games doesn't fall in the category of betting or gambling. Playing games where skill is required to win cash is legal in the country. There are some states in India which however don't allow real money online games to be played in their territory. As long as you don't live in these states you can play the real cash game on PlayRummy.
Clear Rules
Most online rummy games have a segment in the game which explains the rules of the game and our app is no different. So, if you are a tenderfoot, you can learn the rules of every rummy variant on the app. The tutorials will help you learn the game much faster. Also, these rules are followed by every player on the platform which isn't the practice in offline rummy.
Responsible Gaming
Since rummy as a game is an engaging one, there might be instances that an online rummy player finds it difficult to not play the game. Since PlayRummy is an active member of The Online Rummy Federation it adheres to the principles of responsible gaming. Game time of each and every player on the platform is consistently monitored and it is found that they are overdoing the normal hours that the team connects with and cautions them as well to keep things in control. Also, since the game is played on the smartphone, a player can themselves set app locks or even delete the game if they feel that it is hampering the other aspects of their life.
Safe & Secure Payment Gateways
The primary concern of any real money gamer is the safety and security of their online transactions on the platform. Our app has all the necessary encryptions for absolutely safe deposits and withdrawals. The app also has various payment methods like online wallets, internet banking, debit and credit cards. So, if you like to play rummy with real cash you have arrived at the right platform. Here all your online dealings are safe and secure. In the event of you winning the game you can easily transfer it directly into your bank account without any hassle.
Prompt Customer Support
The platform has an effective customer support system which can be reached through call, and email. This is not all, the PlayRummy customer support team also keeps on checking with the users themselves, in case they are facing any issues regarding the game. This prompt service has the platform a trustworthy one. The customer support executives provide users the best advice keeping their interest on top. The well-trained soft-spoken staff with their willingness to assist the users makes a pleasant experience for the users who face any game related issues.
Absolute Fair Play
The app strictly adheres to the principal of fair play. It works on the system called Random Number Generator which ensures that all the cards are distributed randomly through an algorithm and there is no chance of anyone getting the same hand. In offline rummy games people often get formed sets or sequences, even after shuffling the cards. With this system there is a guarantee of this not happening at all. All the cards dealt can't be predicted, taking away any chances of unfair play. The app is well-equipped with fair play plugins that monitor every player and ensure the game play is clean.
So, if you are hesitant about playing online rummy with real cash, you can relax now because on PlayRummy you can play the game and it is absolutely safe, secure and legal.