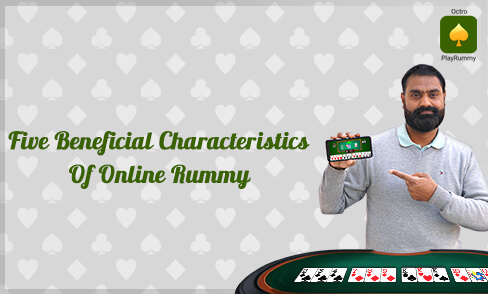 Online gaming over the past decade or so has become a really popular option to have fun and the popularity continues to rise with each passing day. People from different age groups and across genders have taken to online like fish to water. With the whole online gaming industry experiencing high levels of engagement from even online rummy which falls under the same umbrella has seen a rise in its popularity as well. Rummy is considered to be a really high intensity and exciting game by both masses and classes can make your mind function much faster and better. Along with this the game of online rummy also tests and sharpens your mathematical and logical skills.
Off-late the online rummy games have become more sought after than the off-line version. While both versions are pretty similar when it comes to the rules the ones played off-line are played using physical cards. For the online version you can download India's most trusted rummy app, learn how to play rummy through its tutorials and play the game anytime and anywhere.
Let's take a look at the five major beneficial characteristics of online rummy.
Entertaining & Engaging: Playing online rummy is both entertaining and engaging. Whether a person wants to chill during a break or wants to have a fun activity that engages their mind playing online works perfectly for both situations. All they have to do is download the rummy app. Go through the tutorials to learn how to play rummy and start playing. Unlike other online games rummy doesn't become boring after a few games. In fact, in online rummy there are many variants which a person can explore in their free time. There are also several tournaments going on different online rummy tables at any given point of time so a player can take part in them as well. These tournaments are really exciting and engaging as some of the best rummy players take part in these making the whole activity great fun.
Increases Patience: Playing online rummy requires complete concentration from a player. A slight lapse could prove costly ruining their chances of winning it. To concentrate on each and every move of the opponent a player needs a strong mind which can only be achieved after regularly practicing by playing. Observing all that happens during a game can only improve the concentration levels, doing this also makes you a more patient player and person who is prepared to calmly handle all situations during the game. Being patient in online rummy is the key because this is what prepares a player to wait for the right opportunity to play their cards.
Tool To Socialise: In the fast paced world that we are in right now not everyone always gets a chance to stay regularly in touch with their loved ones. Especially during the on-going pandemic those who miss meeting their friends and loved ones can use an online rummy game like PlayRummy to satiate their craving to socialise. One can invite their friends and family to play the game with them and socialise virtually. The game also gives you an opportunity to play with strangers and make friends. Playing with other players around the country can help you improve your game as well earn money.
Travel Partner:  In offline rummy a person has to wait for other players to get ready to play with them which makes them dependent on others to enjoy but in online rummy it's quite easy to find players to play even when one is travelling. Just take out your phone, download the rummy app, start playing whether travelling on a short route or a long journey where passing time can be a challenge. Online rummy enhances the whole travel experience as your perfect travel partner even when you travel alone and to the remotest of locations.
Stress Buster: A good rummy game online can keep you entertained and can reduce a lot of stress during the ongoing pandemic when anyway there is a lot of stress and gloom all around us. Online rummy games can divert a person's attention from all the negativity around and help him just enjoy the game. It will keep people busy but will still make them feel relaxed.  Many people online play rummy regularly because it helps them relieve their stress. Over the years it has been considered a game which can really help a person unwind after a tough day. So, if ever you feel mentally tired and are looking for a fun way to relax, try to play rummy on India's most trusted rummy app.
These are some of the beneficial characteristics of online rummy. There might be others as well which one can come to know when you play the game. So, download the rummy app now and play.