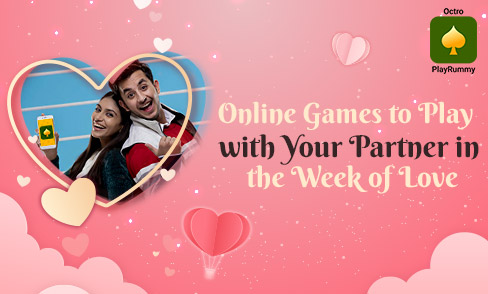 February's second week is here and it's called the 'week of love' because beginning today, which is celebrated as the Rose Day till the 14th of this month, which is Valentine's Day, it's believed that love is in the air. People especially, couples use this week to express their love towards their partners by doing special things for each other. Even if you aren't an over the top romantic who promises to pluck stars from the sky for your soulmate but there are different ways to you can surely bond more with your partner.
Some of you exchange gifts, others go for a low-key way to celebrate their love, maybe watching a romantic movie, a Valentine's dinner date, exchanging poems or video messages for each other. It doesn't matter how you express your love as long as you do it. However, in this year's week of love you can do something unique with your partner. Instead of going for the traditional options to celebrate your love, how about playing online games throughout the week?
We guarantee it will be a lot of fun. A lot of online games are there that can help you bond with your partner. All you need for it is two cell phones and a stable internet connection. So, get ready to celebrate the week of love by playing some of the recommended top online games.
Online Rummy: If you and your partner love playing card games then you have to play rummy on the most trusted rummy platform called the Octro PlayRummy. Since it is a real cash game both of you will not get to play on the same rummy table but you surely can win lots of cash by playing rummy on different rummy tables. The money both of you win in this game can be spent to buy great gifts for the love of your lives. However, if you want to rummy on the same table then you can try playing rummy on the IndianRummy app which is also a game developed by Octro. Both these games are popular card games that will keep you entertained for hours. Both games are 13-card games which can be played with two to six players. Each player here is dealt 13 cards, which need to be arranged in sequences, or sequences and sets. On both these platforms you can take part in amazing tournaments and win great rewards.
Online TeenPatti: Another game that you love birds can bond over is online teenpatti. You can play teenpatti for free on the Octro Teenpatti app. This game is usually played between a group of three to six people and uses a 52-card pack without jokers. This game also comes with a lot of variations like 6 Patti, Teen Patti Battle, 3-2-1, Private Table which card game lovers can explore.
Online Poker: The third option when it comes to card games which couples can play together is poker. Both of you can play poker online on the Octro Poker app. This is the best online platform to play poker. It will give you a feel like you are playing inside a real casino because of its three-dimensional graphics. Both of you can customize the look of their poker avatars and do a lot more while playing this card game. In case you don't want to play against anyone else you can choose to play with each other on a private table as well. Yeah, the rewards as well as the offer are great as well.
Online Sweep: This game is also known as Seep. It's a fishing game played with chips between two or four players with a 52-card pack without jokers. The objective here is to capture cards that have point values. The total value is 100 as under. All cards of spades have point values equal to their capture value (from king worth 13 down to ace worth 1 point). Each ace is worth 1 and 10 of diamonds is worth 6 points. Thus only 17 cards – 13 cards of spade, 3 aces of other suits and ten of diamonds have point values, while all other cards have
Online Scrabble: If you as a couple love word play then this week is the perfect time to play scrabble online. In this game, the players need to place letter tiles and create words on a 15×15 grid board. The words must be formed from left to right in rows or from top to bottom on the board. You can play this game with your partner. In fact, you can try playing a special Valentine's theme game, where you pick only the words that are related to love. To spice things up, both of you can place a bet and the loser of the game has to agree to all of their partner's wishes.